Part of our lighting products collection, The Calm Ocean Lamp by Milkyway™ Lighting is a perfect bedside aquarium lamp that you can have because of these UNIQUE features:
You can have a sense of peaceful and calm Oceanic Life in your own room, a beautiful decoration.

Silicone Jellyfish, so you do not have to worry about being stung or taking care of them.

An effective product for meditating and relaxing.

Suitable for children suffering from autism and people with insomnia.

A cool gift for your loved ones, friends or anyone who needs it.
"A MESMERIZING EXPERIENCE"
★ Immerse yourself in the peace & calm of the ocean
Quietly swimming Jellyfish create a beautiful ambiance. The movements make those Jellyfish so alive that you question whether they are real or not. In addition, the light glowing from the Jellyfish is simply fascinating.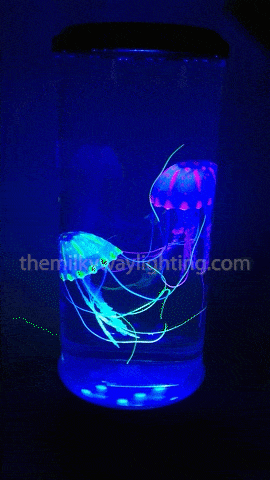 ★ Great meditation product:
The quiet movement of realistic lifelike Jellyfish in the tank with fascinating color changing lights creates a beautiful Tranquil, peaceful & soothing deep-sea ambiance in your room which can help reduce stress & anxiety throughout the day. Great for children, adults & seniors with special needs, including dementia ADHD & autism. May helps improve mood & well-being
★ FASCINATING COLOR CHANGING EFFECT:  The Lamp, with a quiet motor, comes with 2 pcs lifelike synthetic Jellyfish with 18 LED lights (6pcs Red+6pcs Blue+6pcs Green); 5 color light changing effects. Please do not add any external items in it because they can cause the unit to malfunction.
★ IDEAL FOR HOME, OFFICE OR ANY INSTITUTION FOR PEOPLE WITH SPECIAL NEEDS: The Animated Jellyfish Lamp brings simulated marine life and colorful LED lighting to any room you place it in.
★ GREAT GIFT IDEA: Makes an excellent gift for anyone who loves sea life or simply wants to make a unique design statement. Great for Christmas, Holiday's, Parties, Home Offices, Bedroom or Living Rooms.
★ OPERATED BY ADAPTER OR BATTERIES: Operated by USB Adapter, the unit can be plugged into any 100v-240v charging port without issue.
HOW DOES IT WORK?
Quite simply, we use LED lights, water and a motor that allows the silicone jellyfish to look life-like with their movements. The lamp's outer shell is Acrylic, not glass, so it will not shatter if dropped. The LED colors can be set to multi-color changing mode.
The lamp is not completely sealed, there is a small hole with a cap on top that allows you to fill or drain water at any time. You may use distilled (best clarity) or Tap water. Jellyfish calm movements will create a pleasant feeling.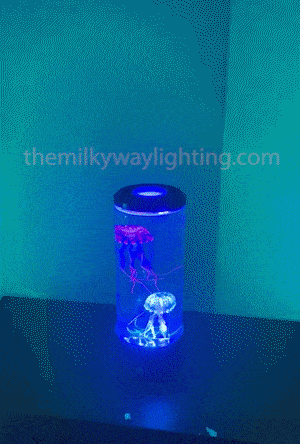 Product Video
The water level can be adjusted to your liking, can use Tap or Distilled water for the tank. The tank is sealed except for a small hole on top where you can fill in the water and put in the jellyfish. After putting in water, you can seal the top with the supplied cap.
Fix Jellyfish Floating Issue
FAQs:
Q. How big is it?
A. At 11.8" H x 4.25" Diam. 
Q. Can it project different colors?
A. Yes, you are able to use 18 LED colors with a press of a Switch.
Q: Is this like a lava lamp? I need one that can stay on all night
A: Not really. Lava Lamps work by heating up wax which rises to the top of the bottle, cool, and then comes back down. In this lamp, there is a jet of water that propels the plastic jellyfish around the tank. Since it is illuminated by LEDs, you can leave the lamp on all day and not have to worry about the bulbs burning out or the lamp becoming hot.
Q. How do you change batteries?
A. The jellyfish tank takes 3AA batteries or plugs in the USB to any outlet or computer. To change batteries, flip unit upside and open compartment. It's very simple, much like a child's toy.
Instructions
--------
MilkyWay™ Warranty Policy and Customer Assurance -  Refund / replacement with no cost for 30 days if the product is not as described, any quality issues.
Shipping Information: Fully tracked shipping. All orders are dispatched out within 24 hours by using DHL, Fedex, USPS. Shipping takes approximately 7-14 days to most continents. 
24/7 Customer Care Service – Please refer to this page or contact glowup@themilkywaylighting.com if you have any questions or concerns.